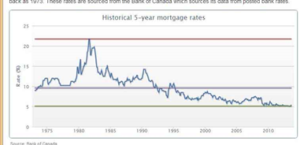 As to mortgage trends, fixed mortgage rate levels are closely tied to investor appetite for government bonds. By and large, the 5-year fixed mortgage rate follows the pattern of 5-year Canada Bond yields, plus a spread. Bond yields are driven by economic factors such as unemployment, export and inflation. When Canada Bond yields rise, sourcing capital to fund mortgages becomes more costly for mortgage lenders and their profit is reduced unless they raise mortgage rates. Small rises in mortgage rates can be a signal of upward of  Canada mortgage trends.
The reverse is true when market conditions are good. In terms of the spread between the Canadian mortgage rates and the bond yields, mortgage lenders set this based on their desired market share,
competition, marketing strategy and general credit market conditions.
How to predict  Canadian mortgage trends: increase in long term Canadian Government bond prices, leads to a decreased yield . The decreased yield reduces the borrowing costs for mortgage lenders which lead to lower fixed mortgage rates and mortgage rates are likely to fall down.There are much more factors affecting Canadian mortgage trendsthan average bond yields but direct comparison could give you a rough picture of what is going to come.